How To Get There
The Hotel Radisson Blu is centrally located and only 20 minutes away from Tegel airport and 10 minutes from the "Hauptbahnhof" (main train station).
Exact information on accessibility and directions will be sent to all participants and exhibitors upon registration. If you need more information, please contact us.
About The City
Centrally located, with two city airports and Europe's largest central train station, Berlin is easily and affordably accessed and has direct flight connections with more than 115 European airports.
Berlin is a very lively cosmopolitan city which offers something for everyone – whether you are interested in restaurants and nightlife or prefer the diverse cultural landscape with museums, concerts, opera and theatre, this city is the place to be!
However, Berlin is not your typical metropolis: with 7% of its surface area made up of water, it has Europe's largest network of lakes, canals and rivers, and 1700 bridges. Berlin is also Europe's greenest city with 18% of its 890 square kilometres made up of parks, inner-city forests and botanical gardens.
Berlin offers its own regional cuisine ranging from fast food such as "Currywurst" and "Boulette" to traditional and classic home cooking. Besides its own regional specialties, Berlin also offers excellent international cuisine serving exquisite meals from around the world thus reflecting the city's diversity. With over 12,000 restaurants there is not one culinary choice you will not find in Berlin!
A detailed map of Berlin can be found here.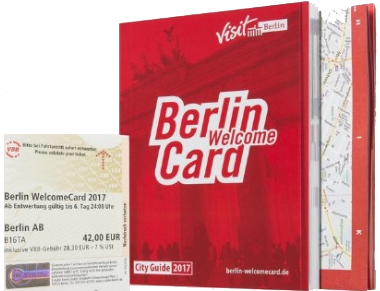 The Berlin WelcomeCard
Getting more for your Euro: The insider tip for economical transportation in Berlin is the Berlin WelcomeCard.
Not only does it offer a public transport ticket for unlimited travel on 2, 3 or 5 days in Berlin or in Berlin and Potsdam, but also great savings of up to 50% on over 140 tourist attractions and cultural highlights.
Get your Berlin WelcomeCard
here
.
IEEE BioCAS 2020
Guest Room Rate
185 EUR
*Room rate includes complimentary breakfast and WIFI
Radisson Blu Berlin
Karl-Liebknecht-Str. 3
10178 Berlin, Germany
With a central location between Alexanderplatz and Museum Island, the Radisson Blu Hotel, Berlin is within easy reach of the city center's top attractions.
Unfortunately, exhibitors and attendees can fall prey to accommodation offers from fraudulent companies. These hotel providers present themselves under names such as Allen & Stratton Events, Euro-Events, International Trade Show Council (ITC), Premier Destinations, Star Eventz, and Universal Shows. This is not an exhaustive list – these outfits change names each year in the hopes of being trusted.
How Does Hotel Fraud Work?
Fraudulent companies repeatedly contact (either by phone or email) our event participants with room offers. Their website, calls, and/or emails mention BioCAS 2021, and may even include our logo in the hopes of looking like an official or legitimate provider.
No one should ever phone, email, or contact you in any way requesting your credit card to make a hotel reservation for BioCAS 2021.
These groups promote attractive deals with local accommodation providers, but once payment has been received, the company disappears and can no longer be contacted by phone or email. Once the attendee contacts the hotel directly about their room, they realize the hotel has no record of them or their stay. Not only is their money gone, but they must also then scramble to find last-minute accommodation, which is rarely convenient to the venue.
This practice takes money directly from our customers and negatively impacts their BioCAS experience. We do everything we can to stop these companies preying on our attendees, and we don't want this to happen to you.
How to Avoid Hotel Fraud
Book through our recommended/official hotel. We work to deliver consistently good hotels for our participants.
Do not only rely on the presence of the BioCAS name and logo on accommodation providers' websites, as our name and logo are being used unlawfully.
The only accommodations recommended by BioCAS 2021 are listed in the list above and allowed to use our name and logo.
If using another supplier, thoroughly investigate all documentation regarding the company making the offer. Check carefully online to make sure they're a reputable supplier with a history of satisfied, actual customers before sending any funds.
Use credit cards to guarantee your rooms, rather than wire transfers. If your supplier turns out to be fraudulent, credit cards typically offer some form of consumer protection, where wire transfers do not.
IEEE CAS Charles Desoer Life Science Systems Student Attendance Grant
The IEEE CAS Charles Desoer Life Science Systems Student Attendance Grant (Grant) is established to recognize students who have exhibited interest in life science systems to allow attendance at a CAS sponsored conference focusing on life science systems. The Attendance Grant is in honor of Professor Charles A. Desoer, a victim of stroke, who is known for his education of circuit and system theorists and in aid of fostering research on stroke.
Details, Eligibility, and Instructions
Two $1300 grants will be awarded to university registered students to cover expenses associated with attendance at IEEE BioCAS 2021 (These expenses may include, but are not limited to – registration, transportation, hotel and meals.)
Student winner will be chosen on a competitive basis.
Applications will be accepted until August 20, 2021
Notification of award by September 1, 2021
In the case that the recipient lives in the location of the conference, the TPC will consider reducing the amount of this award and giving additional awards
Presentation of the award will be made at the IEEE BioCAS 2021 Awards Ceremony
To apply for this award, please click here to fill out the application form. Send the completed form to Kerstin Bonicard, along with an updated CV and proof of being a student.